10 Things You Can Do to Relieve Swollen Legs
It can be a bit of a shock when your legs begin to swell.   
As I get older, I often have mild swelling after standing for long periods teaching in the classroom. Many of us will suffer from leg swelling at some point in our lives for varying reasons, so it's good to have these techniques on hand to help relieve the symptoms when your legs get puffy.
As with any treatment, be sure to check with your doctor before trying something new.
WHY DO OUR LEGS SWELL?
Extended Sitting or Standing
Long periods sitting at a desk, in an airplane, in a car, on a train, on a bus, or even when relaxing on the sofa watching a movie can cause fluid build up due to gravity forcing blood into the lower extremities. Anyone can experience leg swelling as a result of staying in one position for too long. Many of us work at a desk for 8 hours and don't always remember to get up periodically when we are absorbed in our work, so this is a common cause of swelling in the lower extremities.
Diabetes
Circulation problems can also occur if you are diabetic. High blood sugar levels can lead to narrowing of the arteries due to plaque build up. This slows down the circulation of blood throughout your body. When your blood doesn't circulate as it should, leg swelling can result as blood gets backed up in your legs.
Kidney Disease
Maybe your kidneys aren't kicking it like they used to, meaning they aren't filtering fluids effectively. Protein concentrates in your urine and leaves your blood as a result. The lack of blood protein causes fluids to migrate out of your bloodstream and into your body tissues. Hence you develop swelling in your extremities.
Lymphedema
The lymph system is a network of vessels that allows fluid circulation throughout your body. If some of the vessels are damaged, fluid cannot move freely which results in a condition known as lymphedema. This means the damaged lymphatic system cannot circulate fluids effectively. Because your lymph system isn't able to drain fluids like it is supposed to, your legs may swell as a result.
Varicose Veins
Weakened veins in your legs can cause blood to pool in veins rather than circulating effectively. This causes enlarged veins and restricts fluid movement in your lower limbs, causing swelling.
Congestive Heart Issues
When your heart isn't working effectively, blood isn't pumped efficiently through your body, and as the blood sinks into your legs, they swell.
Medication side-effects
Unfortunately to get the benefit of some medicines, we must put up with the side-effects. Common over-the-counter anti-inflammatory pain relievers like ibuprofen and naproxen can cause fluid retention, as well as prescription calcium channel blockers and corticosteroids like methylprednisolone and prednisone.
The Result
Leg swelling, also known as edema, can keep you from doing simple, everyday tasks like grocery shopping, gardening, or just walking to the mailbox. Your doctor should always be your first stop to investigate why your legs are swelling. You may have a serious health condition that should be treated under the supervision of a physician. If your doctor approves, there are some methods for relieving leg swelling you can try at home.
10 WAYS TO RELIEVE THE SWELLING
1. Enjoy a Gentle Massage
One study shows that light massage directed toward your heart can help relieve swelling due to water retention. Pregnant women who had a 20-minute foot massage each day showed improvement after 5 days of massage treatment. Another study showed that nurses who used a 10-minute self-massage after a shift experienced less pain and swelling than those who did not. Be sure to talk to your doctor, however, as massage is not recommended for swelling due to inflammation, and massage that is too vigorous may damage lymph nodes. 
2. Wear Compression Socks
Much like a spa slimming body wrap, compression socks encase your legs with gentle pressure to keep fluid from accumulating in your lower body.  The compression stockings assist blood flow toward your heart, relieving aching and preventing swelling.
Consult your doctor as there are differences in compression stockings' strength that vary according to the medical condition you have.
Compression socks come in thigh-high and knee-high versions, depending on whether you have swelling above your knee or only below it.
Some people shy away from these because they can be difficult to put on, but now there are zippered compression socks from Lemon Hero that make them easier to wear. They are also now offering expanded sizes up to 6XL.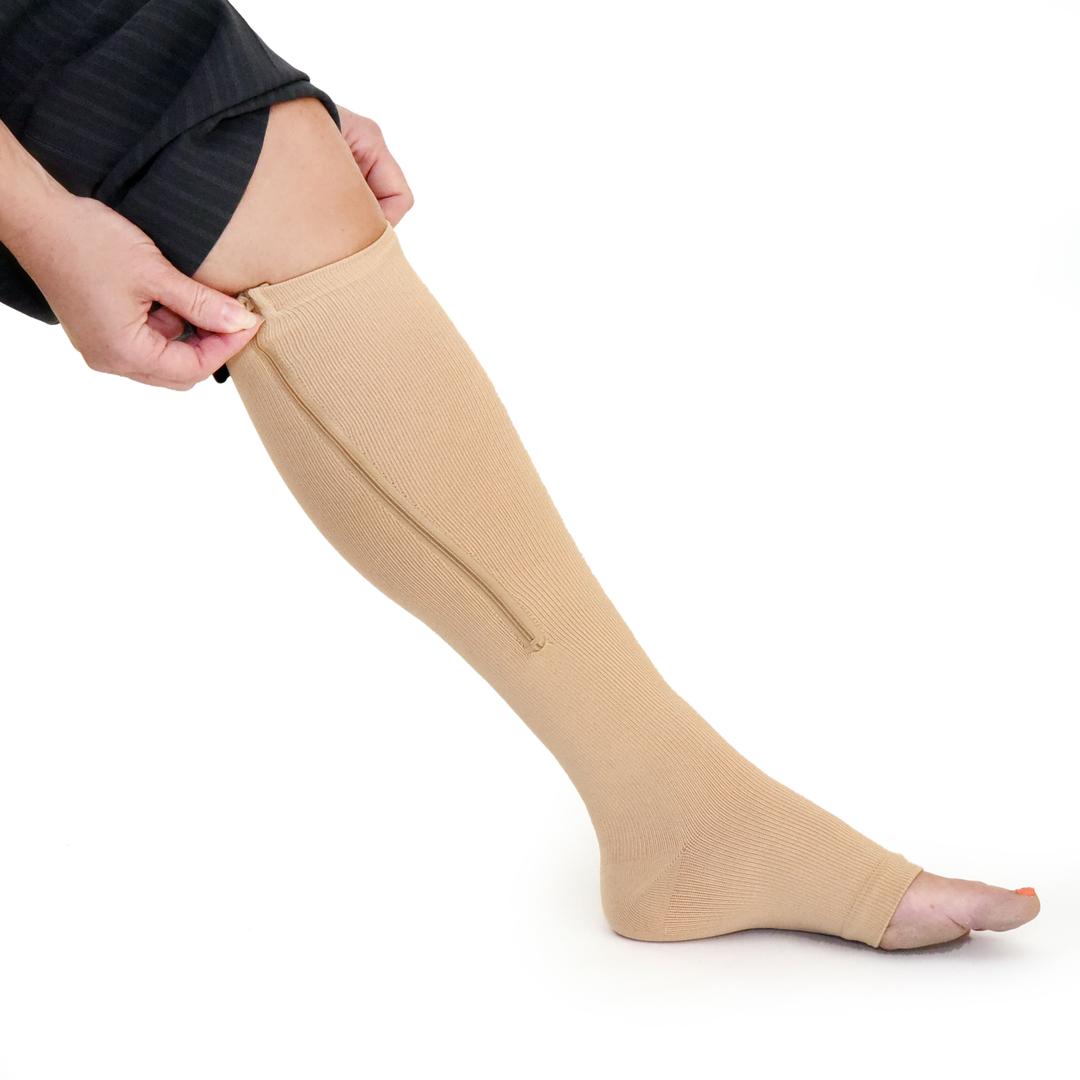 3. Soak your Feet
A nice, warm soak in an Epsom salt bath feels great and can relieve aches and pains due to swelling. The Epsom salt is thought to have a detoxifying effect as it pampers your tootsies. The warm water also promotes blood circulation. Consult your doctor if you have kidney or heart issues as excess magnesium isn't good for these health conditions and may be a sign of a medical problem that requires treatment.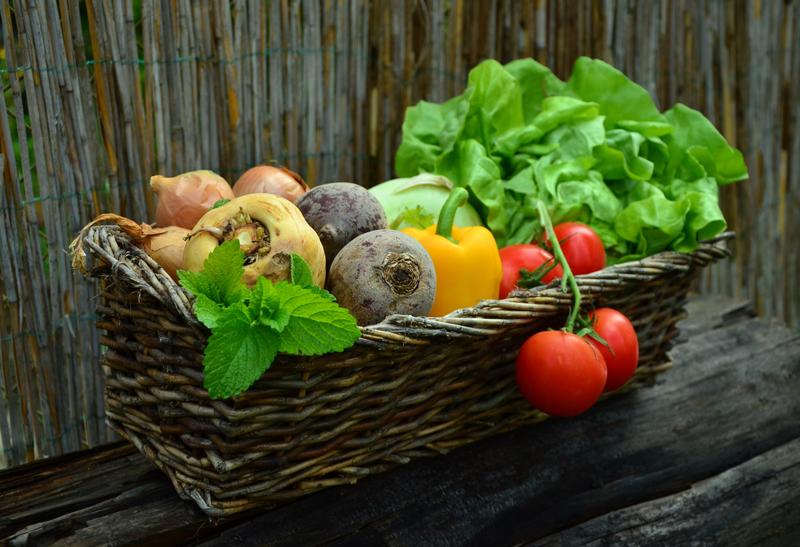 4.   Eat Your Vegetables (and Fruits)
Some foods have a natural diuretic effect. Try eating vegetables such as green beans, asparagus, onions, beets, garlic, leeks, and leafy greens (kale, spinach, and arugula). Dine on diuretic fruits like pineapple, pumpkin, and grapes. Some of these foods shouldn't be eaten with diuretic medications, so be sure to check with your doctor to see if there are any drug interactions. 
5. Drink some Tea
Diuretics drinks rid the body of excess water. Some herb teas act as natural diuretics and can be used to reduce swelling due to water retention. I am a black tea fan, but you can also use, green tea, dandelion tea, and hibiscus tea to encourage water to evacuate the premises. All of them have diuretic effects and are widely available. Just be careful not to overdo it. As in all things, moderation is best.
6. Less Salt
I love salt, so this one hurts. I didn't think I could cut back because it took all the joy out of food for me. Then I learned you can reduce your taste for salt by gradually cutting back rather than going cold turkey. It can take from 6 to 8 weeks to adjust your taste buds, so don't give up too soon. I use a mix of herbs and salt to cut back on the amount of pure salt I use. My favorite is Penzey's sandwich sprinkle. It contains salt, but also replaces some of it with a combination of.garlic, pepper, basil, oregano, thyme, marjoram, and rosemary. I use it on everything from scrambled eggs to pasta. I get no advertising money from them; I just love the stuff. If you want quicker salt reduction, you can use herb mixes like Mrs. Dash that don't contain any salt.
7. Check for Diet Deficiencies
Check with your doctor to see if you are magnesium or potassium deficient. If you have a gastrointestinal disorder like Crohn's disease or Celiacs, you may be more susceptible to dietary deficiencies. The same is true if you are pregnant, lactating, or diabetic.
A deficiency in magnesium or potassium can lead to leg swelling. Don't self-diagnose – always see your doctor to confirm as excesses of either potassium or magnesium are bad for your health, especially if you have some of the conditions that cause leg swelling.
8. Move More
Here are some easy exercises that may help ...
Elevating your legs above your heart when you are sitting or lying down will help reduce swelling. Pack a couple of extra pillows under your legs for some comfy therapy or use a wedge pillow made to elevate your feet.
 Get Up and Sit Down - Avoid sitting or standing too long, or it's too difficult for your circulatory system to fight gravity. Then fluid can build in your lower extremities. Moving once an hour from standing to sitting or vice versa can help encourage blood flow and prevent swelling.
Take a quick walk to jump-start blood flow or sit down occasionally if you have been standing for long periods. If you are like me and tend to zone out while working, try setting a timer on your phone or computer that reminds you how long you have been sitting in one place.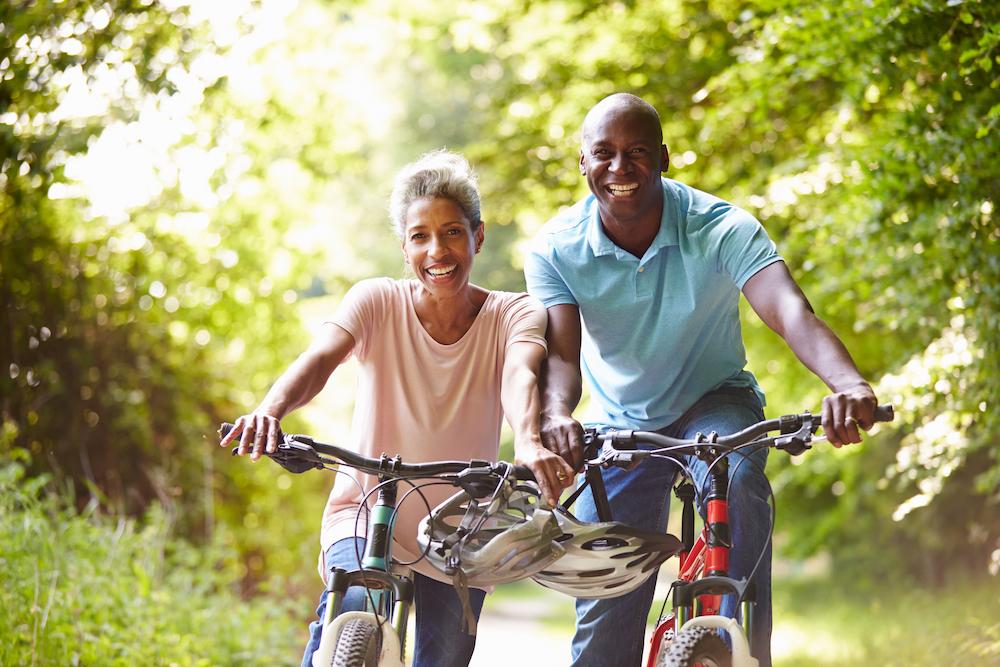 9 and 10  Squeeze those Muscles!
There are some easy exercises that get the fluid moving out of your legs so your body can process and eliminate it. Several can be done while lying comfortably in bed. It would be good to do these before bed after you've been on your feet all day.
9. Glute Squeezes
This exercise involves tightening your butt for 3-5 seconds and then relaxing it. Your hips should raise slightly as you squeeze your glutes if you are lying down. However, you can also do this while sitting or standing. Contract your glute muscles 10 times. Repeat the exercise 2 or 3 times a day. Here is a video example. This helps move fluid out of your legs. Be careful not to hold your breath while you are doing the exercise. 
10. Calf Stretches
If you can lie down, elevate your feet above your heart with pillows (this uses gravity to your advantage to move the fluid out of your legs). Then pull your toes toward your head to stretch your calf and then point your toes toward the end of your bed. Experts recommend you do this 30 times, at least 3 times per day.
If you can't lie down (maybe you are at work) you can still flex your calves by using the same motions while standing or sitting.
One More for Luck :  Knee to Chest Pull
For this exercise, lie with your knees bent to protect your lower back. Then pull one knee gently toward your chest. Do this 10 times and then switch to the other leg. Repeat 3 times a day for best results, but anything will help as it squeezes blood vessels in your hip and helps move the fluid away from your legs.
You should always seek medical treatment if you have any type of leg swelling to identify the underlying cause and to be sure these remedies do not interfere with other medical treatments that are ongoing. Still, it's lovely to know you have lots of options if you need to treat your swollen feet.
Your Satisfaction is Our Main Concern
Highest Quality Products - 100% Money Back Guarantee - Free Fast Shipping - Best Customer Service
Free Shipping in USA
30 Day Money Back Guarantee