Easy On Compression Socks
Compression socks can help with a variety of common health conditions. Perhaps your doctor recently recommended medical compression socks for you or a loved one, or you have a long trip ahead and would like to minimize the chances of Deep Vein Thrombosis.  Perhaps your legs just feel tired from being on your feet day, and compression socks are an easy way to improve your blood circulation, reduce swelling, and just feel more comfortable overall.
Whatever the reason, compression socks are a great way to support your overall leg, calf, and toe health in a number of ways. But are you dreading the struggle to put them on or aren't physically able to slip compression socks up your legs? It can often prove difficult to force compression socks over your feet and up your leg to your calf. But there's good news: if you're looking for ways to get the many benefits of compression socks without needing help to get them on every time, there are different types of compression socks that are easy-on and easy-off. Imagine no longer needing help to get your compression stocking up your leg! As we will show here, wearing compression stockings can be so much easier if you use the Zippered style from companies such as Lemon Hero Health.
Why Do People Avoid Wearing Compression Socks?
Bad Fit
First, it can be hard to get a custom fitting for compression socks. You may not have a medical supply store nearby, and compression stockings must be fitted to the individual, so many people put it off or avoid getting measured. However, these days there are plenty of detailed instructions online that can help you or your family member measure for the perfect fit at home. In fact, it's never been more easy to find the right size compression sock.
They are a struggle
Second, no one wants to struggle to put on compression socks every day, no matter how good they may be for his or her health. It's simply not a comfortable process getting knee high socks up your leg that are designed to provide compression. And some patients have medical conditions that make it difficult to bend or stretch to put on regular clothes and socks, compression stockings notwithstanding. Even with assistance from someone, it can be a difficult process to get one of these socks up your leg. Nobody wants to start and end their day with a sock struggle, after all.
So what's the socks solution? 
Introducing Zippered Compression Socks
That's where newly-innovated Zippered Compression Socks come in. Even reluctant wearers have been convinced after trying a pair of these open toe easy-on compression socks.
It's no good if you give up on using compression stockings that could improve or even save your life because they are difficult to use or don't fit correctly. That's why these compression socks are life-savers, especially when you don't have time to struggle to pull a sock up your leg!
A zippered medical sock fits over your foot and ankle and then zips up your leg and calf for easy wearing. This is one stocking that goes on quick and easy to be sure!
And don't worry about getting pinched as you zip them - each open toe compression stocking is designed with a protective flap between the zipper and your leg to protect your skin and keep the zipper from rubbing against your leg. 
An open toe design for each sock keeps your toes free to wiggle, and the quality construction means your compression socks are durable and long-lasting.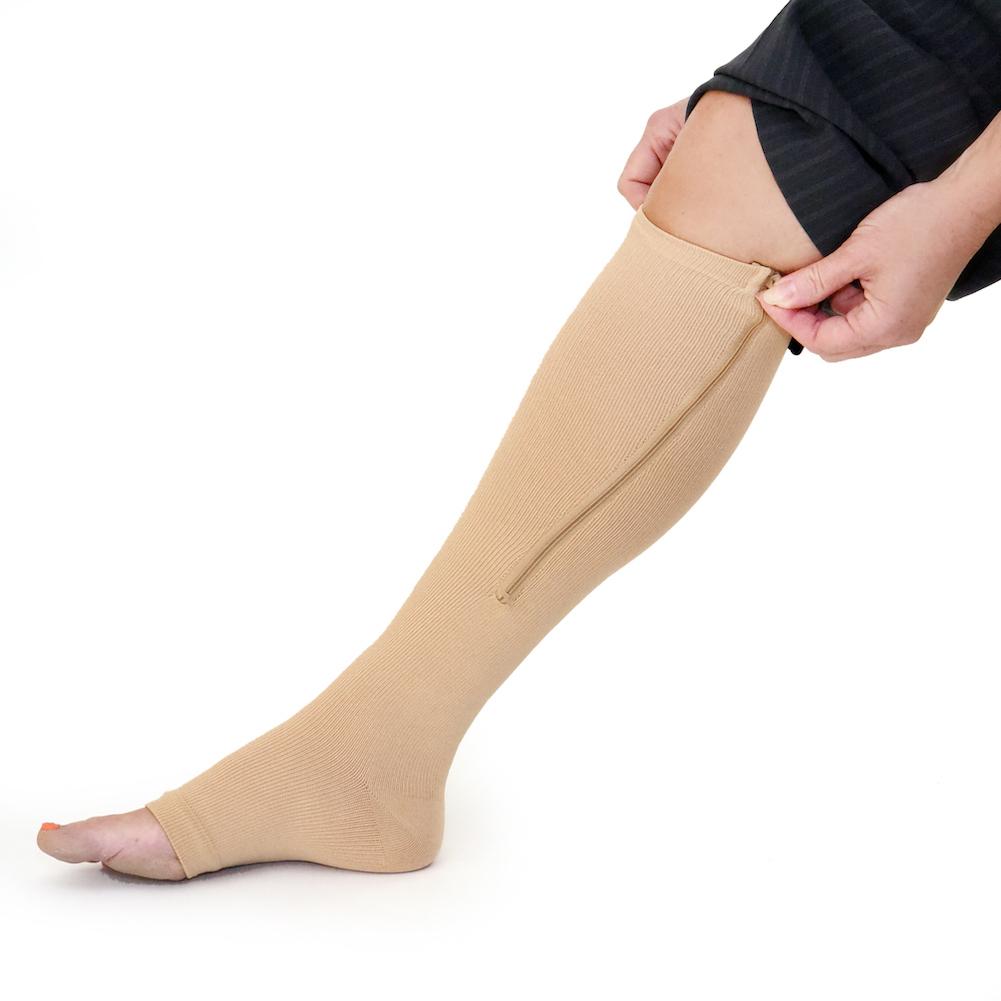 Buying the Right Compression Sock for You
Fit is key when it comes to compression sock or stocking choice. Just like when it comes to the size of shoes for your feet, compression stocking size can differ from one person to another. Men and women come in all shapes and sizes after all, so look for a product that has a wide variety of sizes to choose from so you can get the best fitting compression socks for you. It's important to get the right size because poorly fitting calf compression stockings, even zippered open toe compression socks, can break the skin or reduce blood flow instead of improving blood circulation. 
Fortunately, a few manufacturers of compression zipper socks, such as Lemon Hero Health, have recently responded to fit concerns and are now providing sizes for a wider variety of legs. This stocking size chart for Lemon Hero zippered support stockings shows the many sizes available. 
Nowadays there are even options for those with shorter legs to ensure a more customized sock fit. 
You can check the stocking size chart for guidelines on how to select the best zippered compression stockings or socks for you. Fortunately, if there is any problem with fit, Lemon Hero will easily exchange it for the correct size.
How much compression do I need?
The amount of compression you receive from your socks  is important. Ideally, you want support to prevent swelling and reduce pain, and not so much pressure that leaves you feeling uncomfortable and tight. The calf compression level of stockings and socks is measured in the same way blood pressure is measured – millimeters of mercury (mmHg). A higher number equals more pressure. If you're experiencing pain and excess pressure from your current pair of compression socks, examine the mmHg rating of the stocking to compare it to other socks on the market.
As always, follow your doctor's recommendations on the level of compression if you are wearing compression zipper stockings for a specific health condition. If your doctor hasn't recommended a specific compression level, you can consult the chart below.
So which level of compression is best for you or your family member?
Compression support stockings come in:
Mild (8-15 mmHg) - Best for those who sit or stand for long periods

Moderate (15-20 mmHg) - Best for travelers to prevent blood clots and to prevent or relieve minor spider veins and varicose veins

Firm (20-30 mmHg) - Best for patients after surgery, to prevent fainting upon standing, and for moderate varicose veins or swelling 

Extra firm (30-40 mmHg) - Best for those with severe lymphodema, varicose veins, or swelling
Finally
Find the right fit and support, and compression socks can improve your life, maintain your independence, and protect you from serious health complications.
Checkout these reviews from other people to see what they think before you buy them!
Try a pair of our innovative and helpful compression socks today - Risk Free!
Chrissy and her team are there to help you choose the right fit, and offer free exchanges to make sure you get the right pair. 
You get a full 100% Money Back Guarantee if for any reason at all you don't want to keep them.
And we would like to offer you a 10% discount - Just enter code LEMONX10 when you check out.