Thigh High Compression Stockings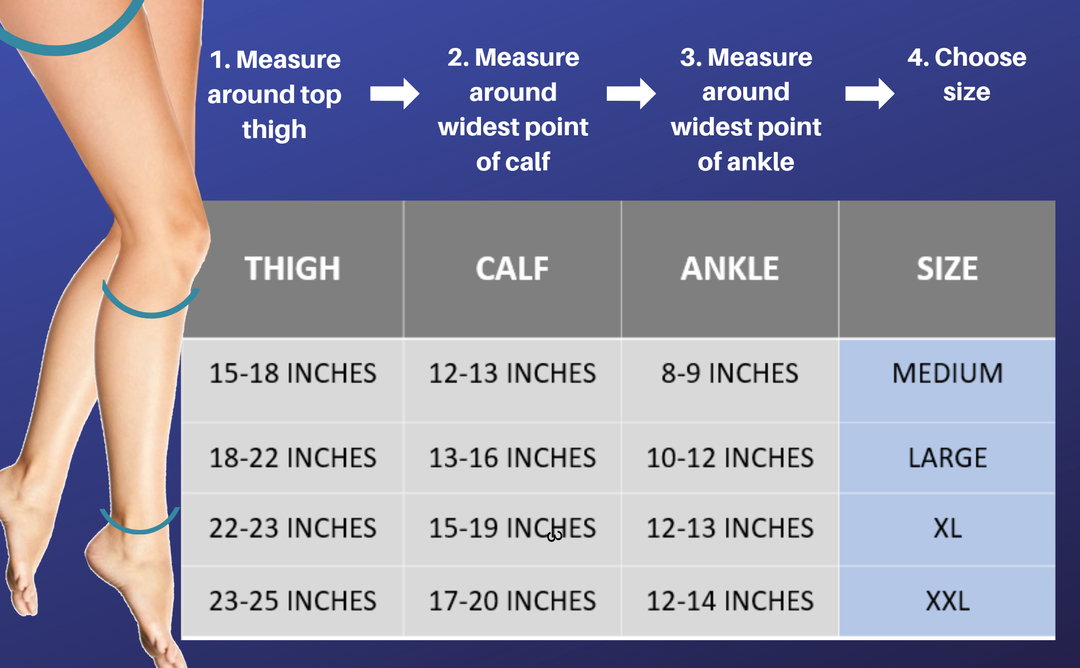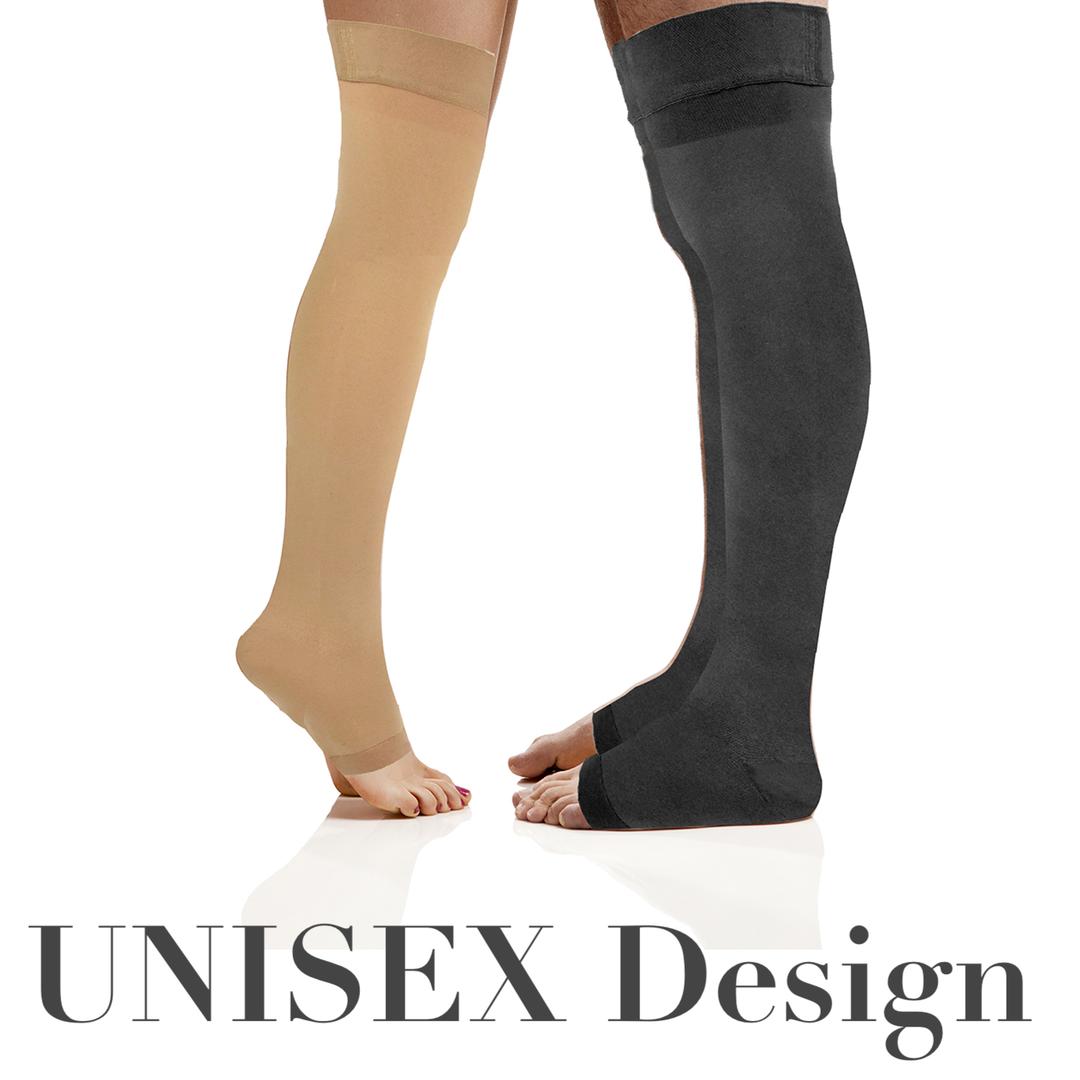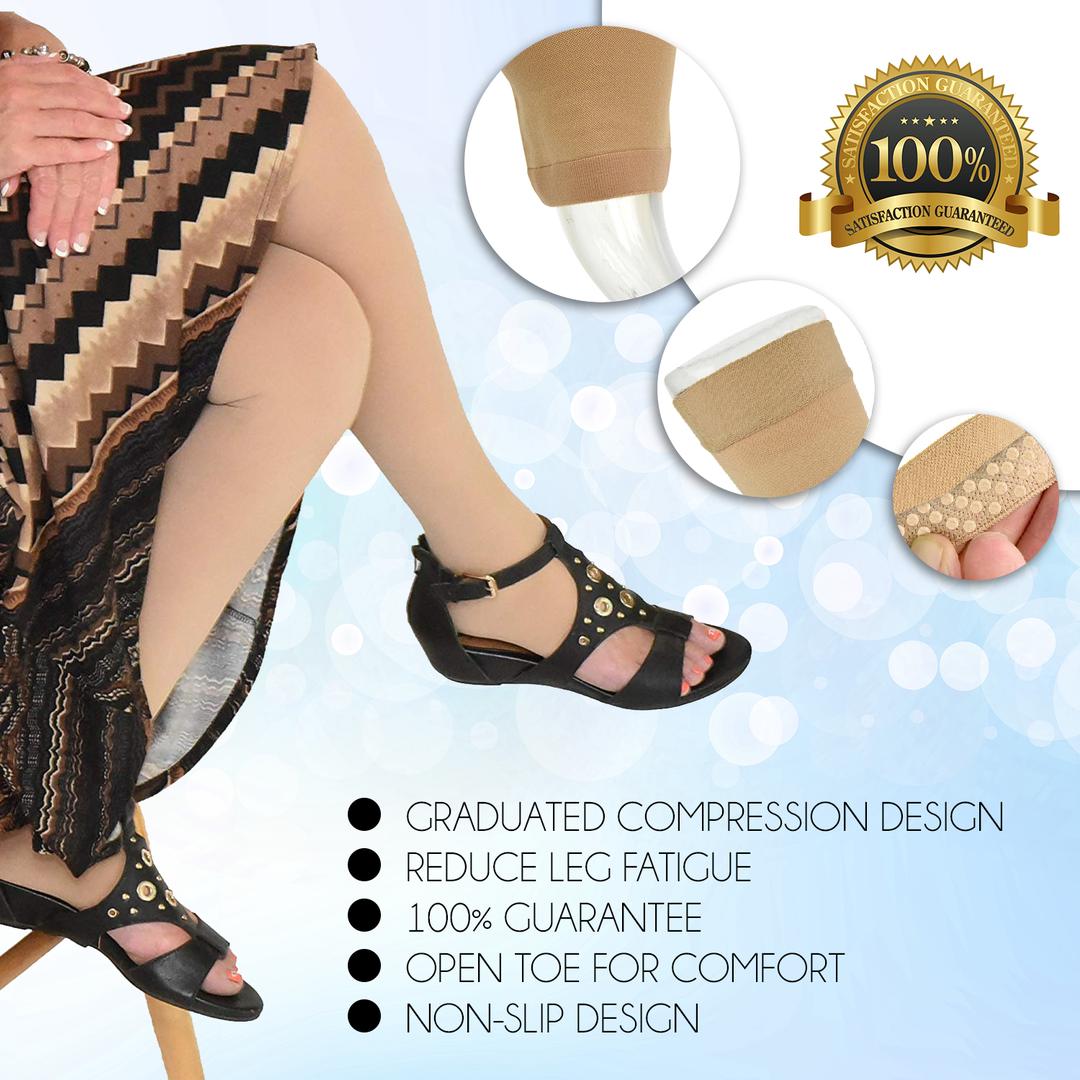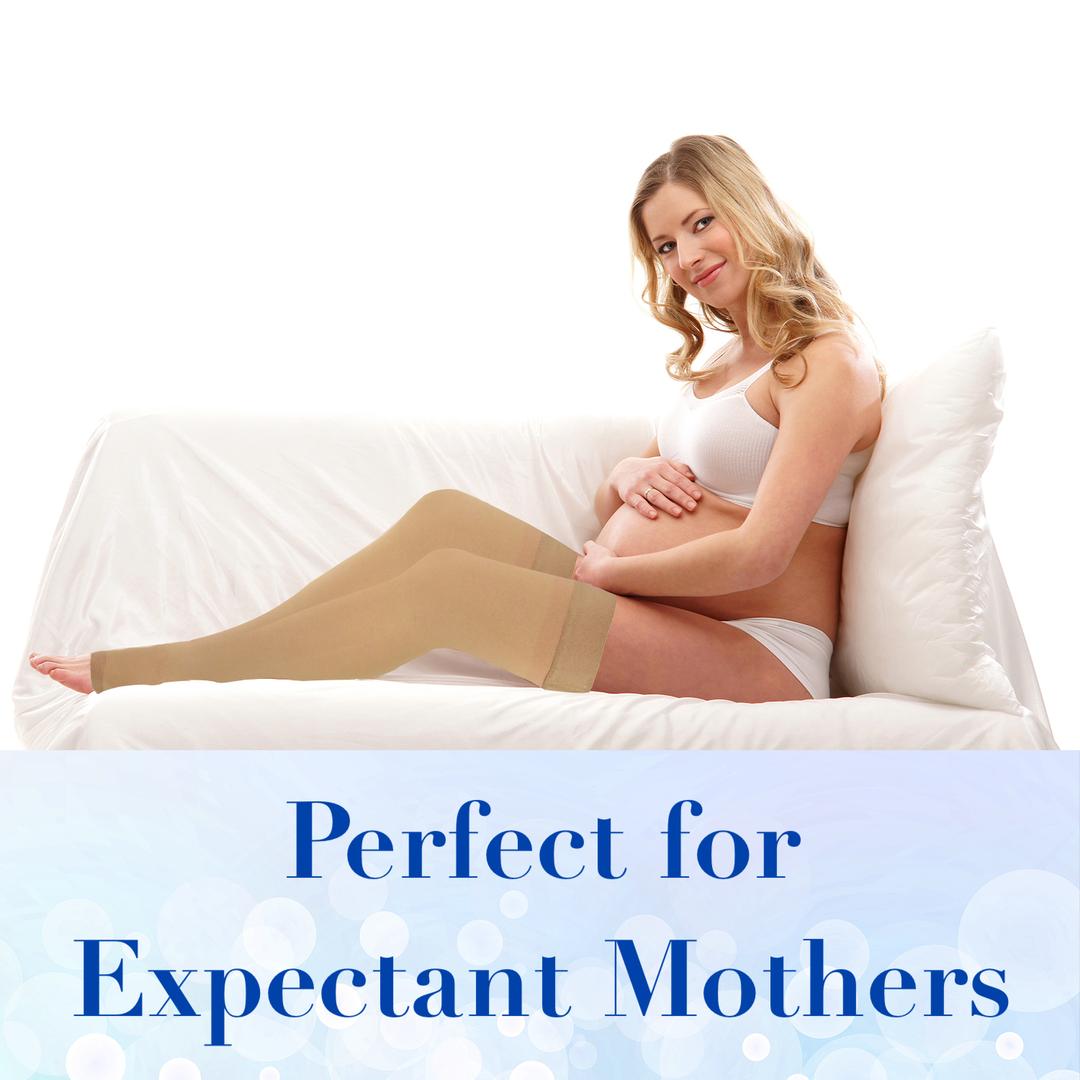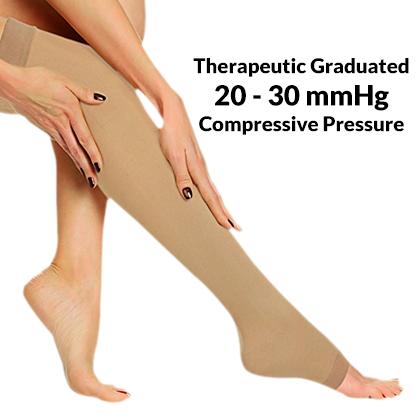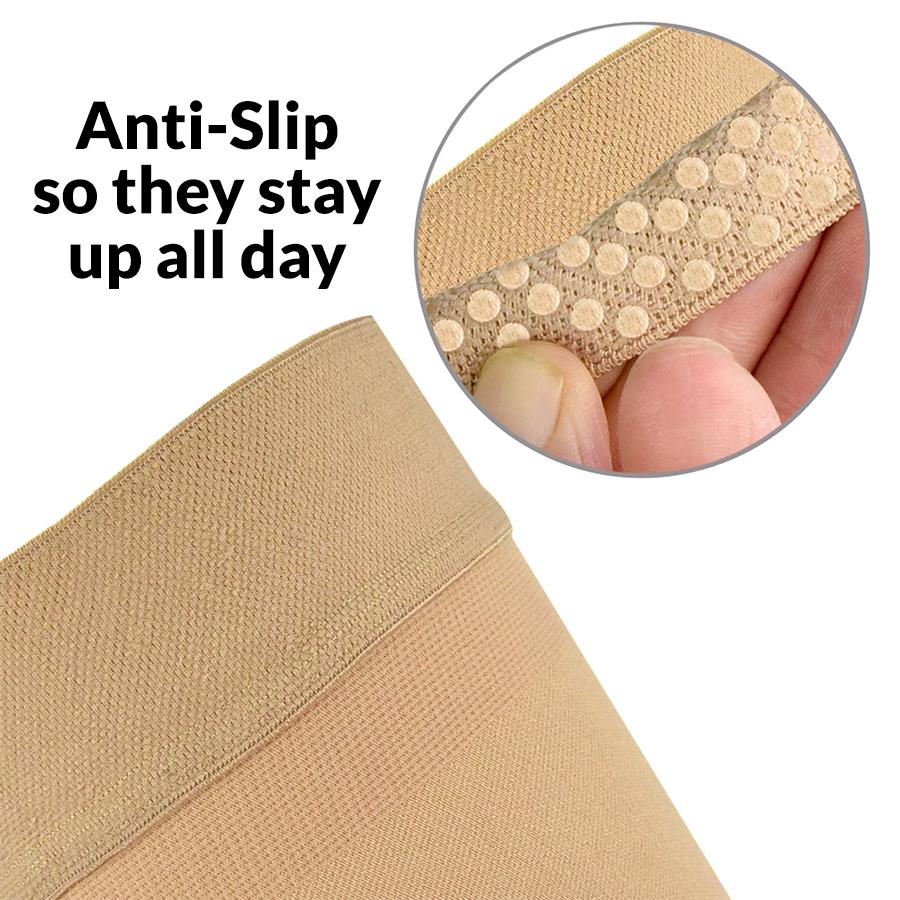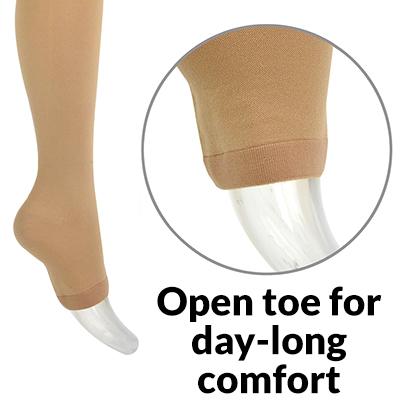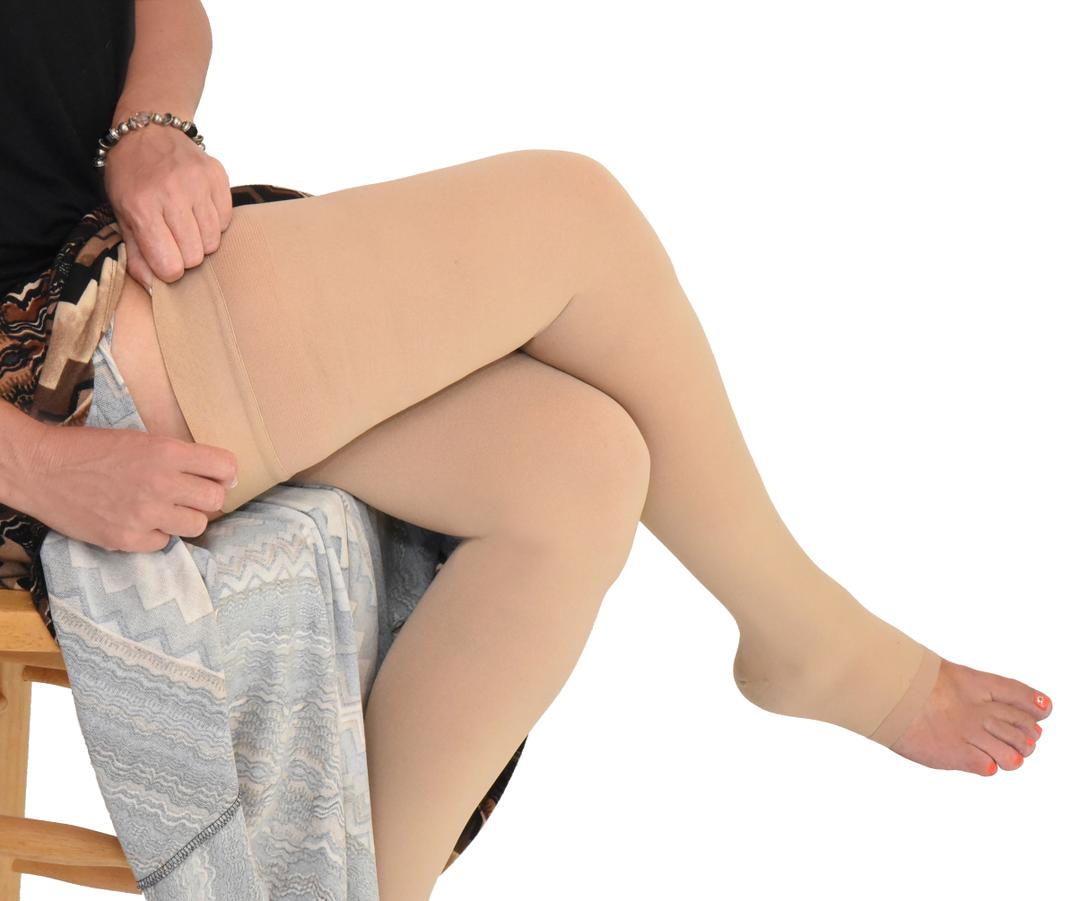 "Excellent product. They are very comfortable and seem to be doing the job for which they were intended for. Can't say enough about the company. They are GREAT!" - Robert Z
Our Thigh Length Compression Stockings for women and men reduce leg pain and tiredness through carefully engineered graduated 20-30mmHg compression. Features of these thigh highs include high compression and support for both the knee and the thigh in addition to the calf and an open toe design that offers more comfort than closed-toe brands. A non-slip silicone thigh band aids in keeping these thigh high compression stockings secure and in place on your thigh, while an opaque look that makes these compression stockings perfect for any occasion
They are created to look and feel like smart opaque thigh high leg wear. We made them to be soft, comfortable, easy to put on and lightweight, but still provide high levels of compression.
The open toe design of these thigh highs allows your feet to breathe, and avoids the feeling of constriction that is common with closed-toe brands of compression stockings.
High levels of compression provide medical support for conditions such as varicose veins and support women and men that are on their feet all day. 
Thigh high compression socks provide unparalleled levels of medical support for the calf, knee, and thigh
& Free Delivery in the USA
100% Money Back Guarantee

Our Thigh Length Compression Stockings for women and men reduce leg pain and tiredness through carefully engineered graduated 20-30mmHg compression. Features of these thigh highs include high compression and support for both the knee and the thigh in addition to the calf and an open toe design that offers more comfort than closed-toe brands. A non-slip silicone thigh band aids in keeping these thigh high compression stockings secure and in place on your thigh, while an opaque look that makes these compression stockings perfect for any occasion
They are created to look and feel like smart opaque thigh high leg wear. We made them to be soft, comfortable, easy to put on and lightweight, but still provide high levels of compression.
The open toe design of these thigh highs allows your feet to breathe, and avoids the feeling of constriction that is common with closed-toe brands of compression stockings.
High levels of compression provide medical support for conditions such as varicose veins and support women and men that are on their feet all day. 
Thigh high compression socks provide unparalleled levels of medical support for the calf, knee, and thigh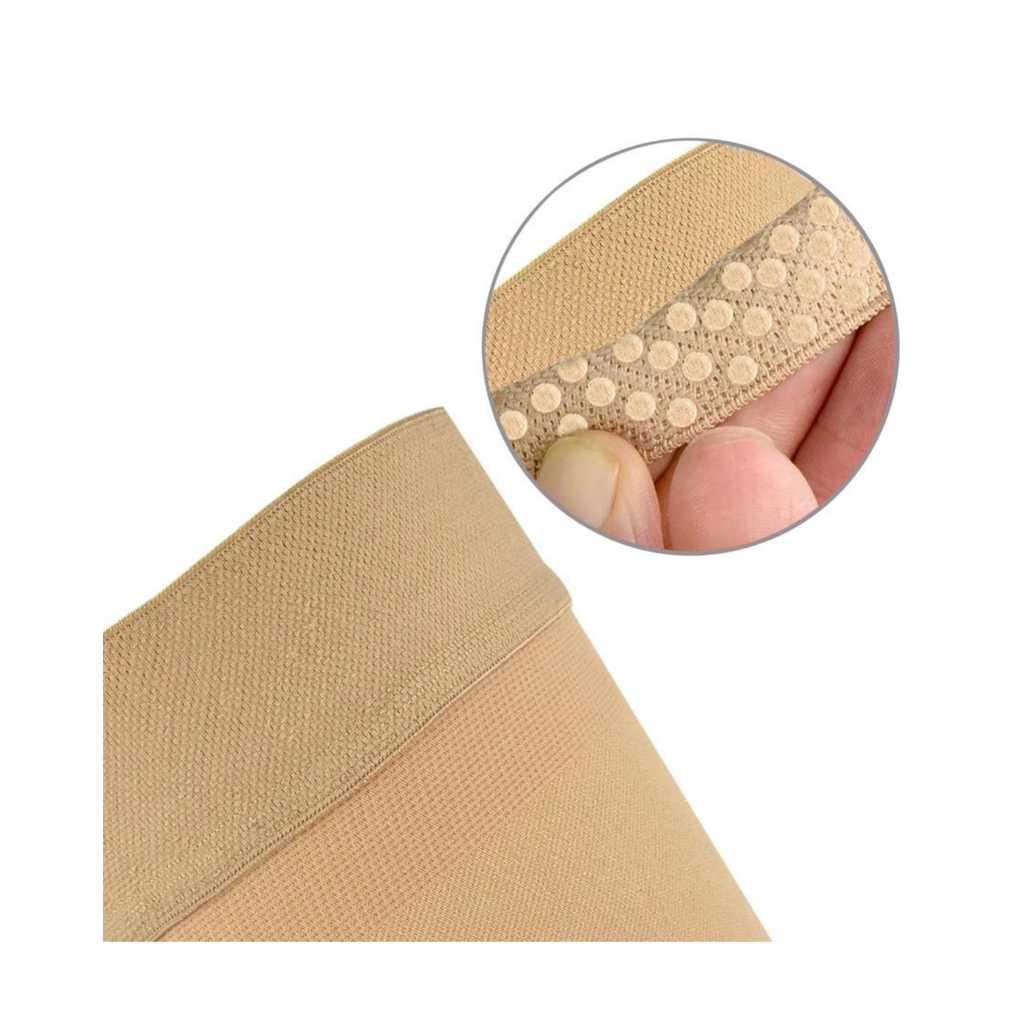 Non-slip Design 
Top Designed To Prevent Slipping
These thigh high compression stockings stay in place all day thanks to a silicone band around the top. Won't curl like some brands of thigh high compression socks do, and you won't spend half the day running to the bathroom to hike them back up or squirming uncomfortably when they begin to droop.
.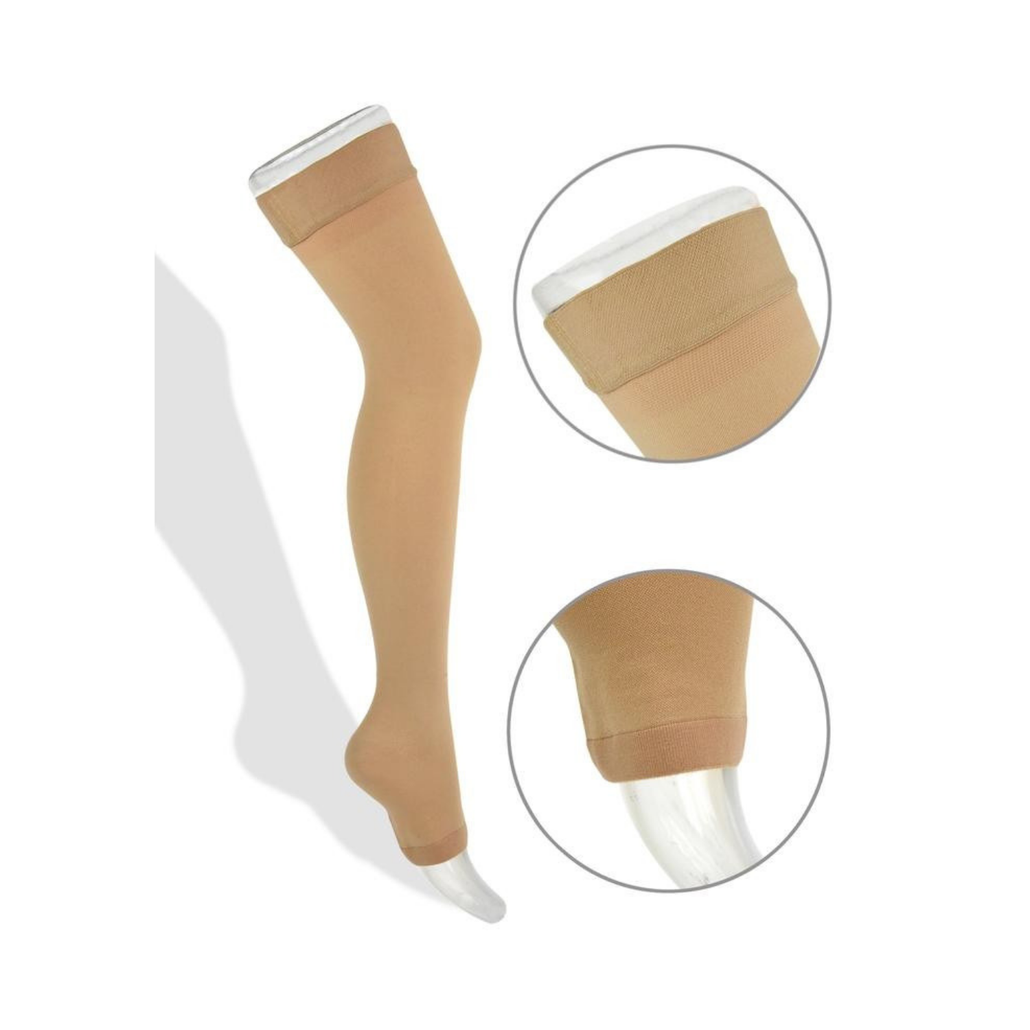 Open Toe Design
For Enhanced Comfort
To ensure your feet are not compressed or restricted in any way like you can often experience with closed toe stockings from other brands, our thigh high compression socks feature an open-toed design. Our open-toe stockings fit all foot sizes - for women and men. There's no cramped closed toe pain here when you slip into a pair of these products!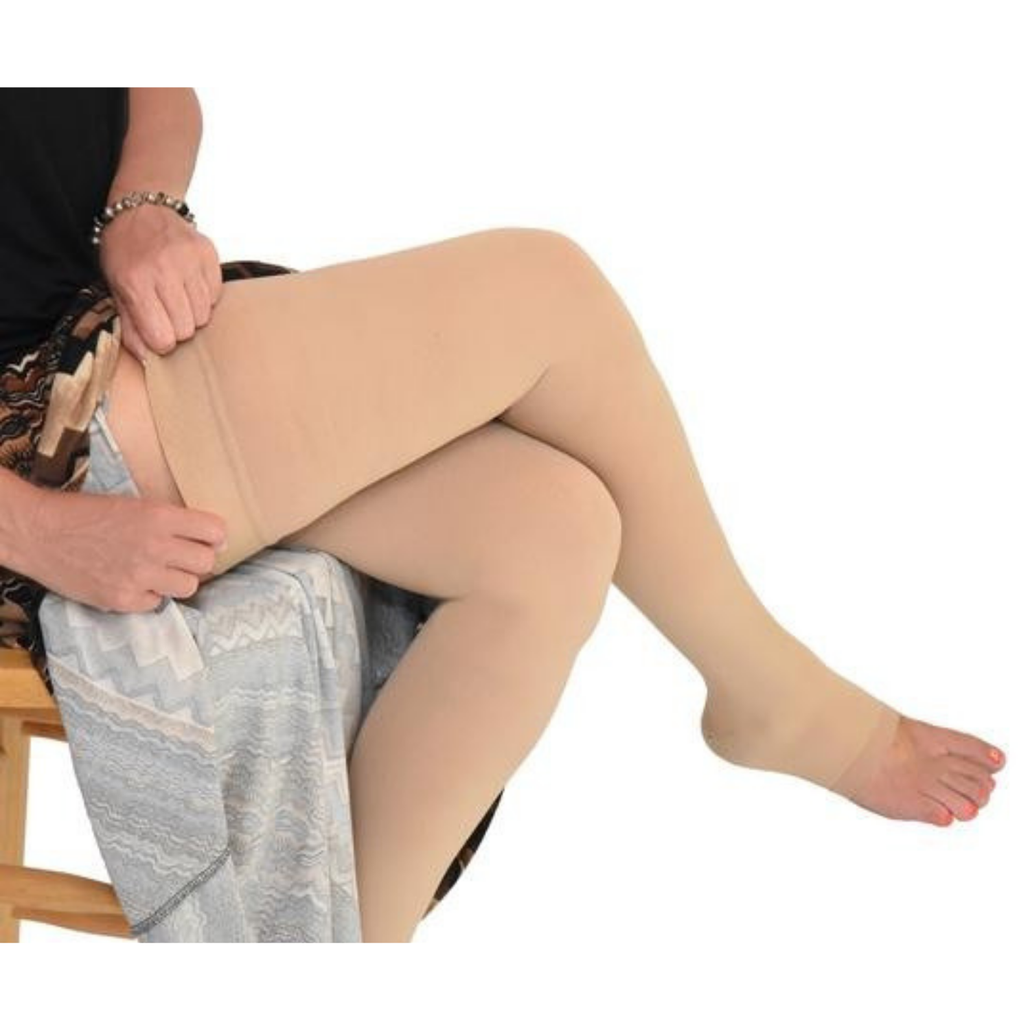 Reduce Leg Fatigue
Full Leg Graduated Compression 
Not every part of your leg needs the same amount of compression. With a therapeutic graduated 20 - 30 mmHg pressure, these thigh high compression stockings deliver the right amount of pressure where you need it most, providing better levels of relief for aching legs and feet, swollen ankles, diabetic conditions, and varicose veins.
We are an American company based in Raleigh NC, and we are a registered Federal Food and Drugs Administration Facility.  All of this means that you will be buying from a reputable regulated company.  
We offer best-in-class customer service.  Chrissy and her team will personally look after you if you have any questions, or if you need an exchange or full refund.  
We guarantee all of our products.  We offer 100% money back guarantee if you are not fully satisfied. 
We get regular Amazon Choice awards for our products so you can rely on the quality of product and follow up service.
See What Doctors Are Saying...
Dr. Charles (Trey) Williams M.D. :
"...thigh high compression hose are exactly the product I recommend to my patients"
With a pressure gradient of 20-30 mmHg, the thigh high compression hose are exactly the product I recommend to my patients.
Not only do they help in conditions in which there is swelling of the lower extremities such as heart or kidney failure, they can help prevent disfiguring complications.
These stockings lower the pressure that the veins in the legs have on the surrounding tissues making it easier for blood to flow back to the heart. In this way, pathologic swelling can be prevented and varicose veins can be avoided.
Regular use can even decrease leg fatigue, especially in people who are on their feet all day.
Grab a pair of Lemon Hero Health thigh high compression hose today and start seeing the benefits sooner!
See What Customers Are Saying!
★ ★ ★ ★ ★ 
Had restless legs and pain every night, until I bought these stockings. Amazing how my legs feel while I'm wearing them, and , more importantly, how restful my sleep is now. Wish they were a smidge easier to put on, but that would defeat the purpose. Love them!
—Kay
★ ★ ★ ★ ★ 
These are a nice thick compression stocking for an excellent price. I did not think I'd like the thigh highs but after getting used to them I like them. The nurse at the doc's office gave valuable advice and that is to keep them from rolling down wear a spanx/shaper with legs over them. It works. 
—Dtfkw
"Best I Have Ever Seen"
★ ★ ★ ★ ★ 
These Compression Stockings are the best I have ever seen!!!!!! My patient's doctor was so impressed by these stockings and stated " These are exactly what I encourage the patient's to get" The companies staff is very accommodating as well. You bet I will order these stockings again and tell all my coworkers (other nurses) how wonderful they: fit, feel and look.
—Wisdom United LLC
How To Measure & Find The Right Size
Important Note : Legs often change in size during the day so it is important to measure your leg at the right time.   You can measure at the time you would normally put the socks on, or - if your leg becomes very swollen during the day - you may prefer to measure it at the largest size.  We recommend discussing with your medical advisor to get the right fit.
If you are between sizes we recommend always choosing the Larger Size . You should have your leg measured again and your stockings replaced every three to six months.  Then compare the size to the table below. It is strongly advised to ask your medical practitioner to check they fit properly. 
Free Exchanges and Easy Returns - if you need to exchange for a different size or just don't like the socks once you try them, just let us know and we will take care of it for you.
★ ★ ★ ★ ★ 
" These compression stockings are very good quality. They hold in place extremely well with the wide elastic at the top. The instructions that are included are very helpful. I would highly recommend these compression stockings."
-Sheila Fay Dyer  
★ ★ ★ ★ ★ 
I use these following a hip replacement surgery .They're very comfortable and do the job
-Vicki Thompson  
Your Satisfaction is Our Main Concern
Highest Quality Products - 100% Money Back Guarantee - Free Fast Shipping - Best Customer Service
Free Shipping in USA
30 Day Money Back Guarantee